PET Blowing Oil free Air Compressor 30-40bar 390-1500m3/hr
Model:SZVW
Data range:40bar
Europe design and technology,Adopt three column,three stage double acting oil free compress(ISO8573-1Standard)
24hours non-stop
less energy cost,less noise and vibration
Long life wearing parts
Mainly used in PET blow molding,petroleum,leak detection,precision machinery,electronic and Aerospace.
market@szcompressor.com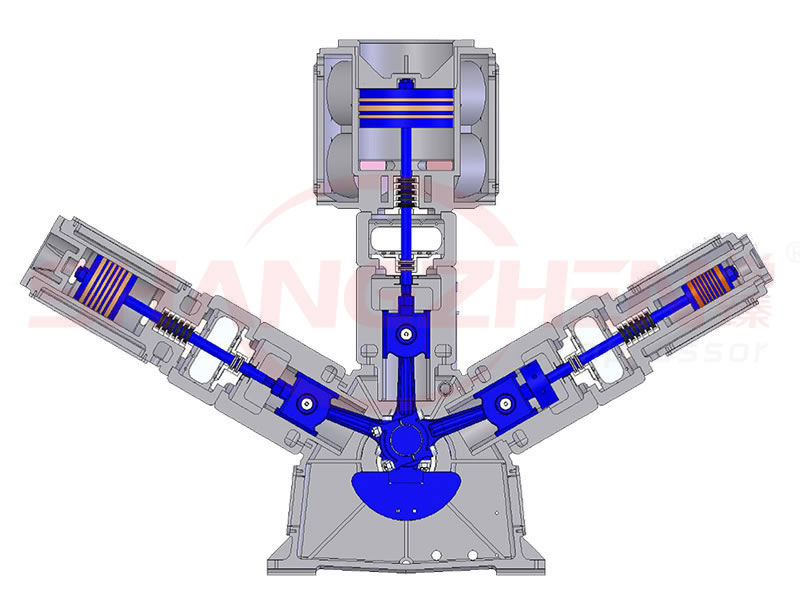 Characteristics of SZW:
W type, three column, three stage compression, higher efficiency, less piston force, less floor space.
The three stages are double acting cylinders.Each stage is equipped with at least 2 sets of intake and exhaust valves to avoid downtime due to a single valve failure.Less mechanical loss and less pressure difference.Gas leakage is smaller during compression operation.The operation temperature of all levels is lowered, energy consumption is saved, and the service life of wearing parts is increased.
The tapered end of the forged steel crankshaft processed by various processes makes the installation and removal of the pulley simpler.
Stainless steel body and valve cover, not easy to rust, easy to assemble and disassemble. Imported PEEK valve, less noise, better sealing.
The more reasonable design of water chamber makes the service temperature of air valve, piston and stuffing box lower, and greatly improves the service life of wearing parts.
Imported materials piston ring and packing, accompanied by excellent design and processing, so that smaller friction, leakage less.
Aluminum alloy and stainless steel piston, with special design and precise machining, longer service life.
It adopts automatic aligning roller bearing without any adjustment and has longer service life.
Special oil scraping ring and excellent design of oil scraper, so that oil scraping effect is better, longer service life.
American Standard belt wheel, imported Optibelt belt, higher efficiency, longer service life.
A forced oil pump mounted on the crankshaft can adjust the supply pressure and configure the filter and relief valve.
Precision machining of connecting rod, with special imported materials of the Bush, without clearance adjustment, the friction coefficient is lower.
40bar Technical parameter:
Model

FAD

Host

Type

Speed

r.p.m

Size

mm

Motor

KW

Weight

KG

Note

m3/min

cfm

SZW-6/40-B

6.5

229

W-Type

3--column

3-stage

500

4200X1800×2550

75

4800

Skid

mounted

SZW-8/40-B

8.5

299

645

90

4900

SZVW-6/40

6.5

229

500

3100X1900×2200

75

4200

Variable

frequency

SZVW-8/40

8.5

299

645

90

4300

SZVW-10/40

10.5

370

590

110

4700

SZVW-12/40

13.0

460

710

132

4800

SZVW-16/40

16.0

565

490

3600×2200×2200

160

7900

SZVW-18/40

18.0

636

550

185

8100

SZVW-20/40

20.0

704

615

200

8300

SZVW-22/40

22.0

777

490

220

8500

SZVW-25/40

25.0

882

550

250

8800
Notes:
1、Performance parameters measured according to ISO2017,reference conditions:inlet temperature 20℃,inlet pressure 1barA
2、Special models could be customized.